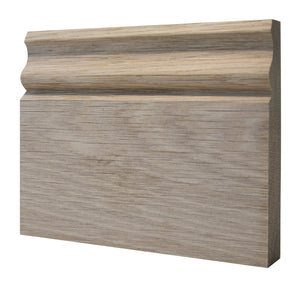 Priced by the metre from £14.21 ex VAT.
Delivered in 3-metre lengths where possible, some orders may receive lengths slightly shorter due to courier restrictions.
This is a skirting board mould that will never go out of fashion. Like Torus, this mould has been around for years and will stand the test of time. If you're looking for this mould to match your existing skirting board, we'd recommend ordering a free sample 1st. Then, if you need a bespoke size, please contact us and we'll provide you with a quote.
A classic design in Prime European Oak

Could be ordered to replace any worn sections of your current skirting board
Sweeping, curved, elegant profile
A deep mould for an artistic finish to your room
Distinctive, attractive grains add character to your room
Glues, stains, and finishes well
Product details:
Prime European Oak available from £9.67 per metre
Prime American Ash available from £13.31 per metre
Unsorted grade softwood pine available from £4.14 per metre
40mm Ogee mould
20mm thickness
120mm or 170mm profiles
Delivered in up to 3-metre lengths