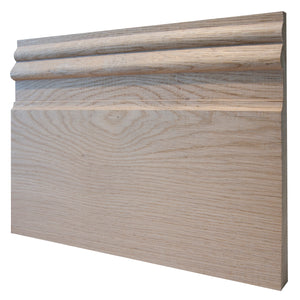 Priced by the metre from £18.99 ex VAT.
Delivered in 3-metre lengths where possible, some orders may receive lengths slightly shorter due to courier restrictions.
This mould has been used by our parent company in listed buildings. It is especially attractive on door frames in buildings with high ceilings which need wider architraves to match the profile of the room.
Manor House mould design in Prime European Oak
Perfect for period properties or buildings with high ceilings

Distinctive, attractive grains adding character to your room
Glues, stains, and finishes well
Moderate/high fitting difficulty
Product details:
Prime European Oak available from £18.99 per metre
Unsorted grade softwood pine is also available from £5.76 per metre
50mm Manor House mould

20mm thickness
170mm profile
Delivered in up to 3-metre lengths