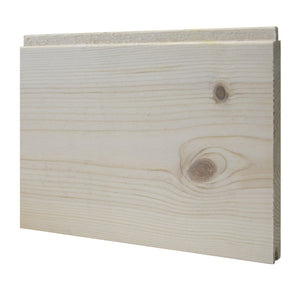 Priced by the metre from £3.66 ex VAT.
If you would like to order the long 4.2-metre lengths you must be inside our zone 1 delivery area. Here's the postcode list for zone 1. Alternatively, you can click and collect.
If you order 4.2-metre lengths for delivery but are outside our zone 1 delivery area your order will be shipped in smaller lengths from 1-metre to 3-metres.
Our furniture quality knotty pine tongue & grooved cladding is used to clad walls full-height or half-height. What sets our cladding apart is the fact that it is 15mm thick and therefore stronger and more stable than what you may buy from elsewhere. The standard thickness for this type of product is only 9mm.
Features & Benefits:
15mm thickness provides greater strength and stability

Machine smoothed tongue & groove for easy assembly
Ideal for cladding hallways and bathrooms
Popular for boarding garden rooms
Apply appropriate treatment for outdoor use
Product details:
15mm thickness

114mm width (including the tongue)

Up to 4.2-metre lengths

Unsorted grade softwood