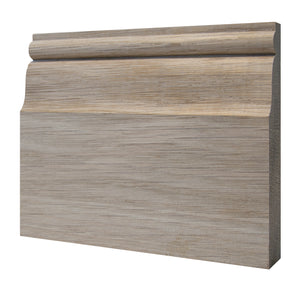 Priced by the metre from £14.21 ex VAT.
Delivered in 3-metre lengths where possible, some orders may receive lengths slightly shorter due to courier restrictions.
This period skirting board mould by Peak Premium has been developed following many bespoke requests. With rounded and sweeping elements to its design, it combines characteristics of other moulds for its look. It works well on any height of skirting board.

Peak Premier 'Chatsworth' Mould Design

Available here in Prime European Oak

Perfect for period properties or buildings with high ceilings

Distinctive, attractive grains adding character to your room
Glues, stains, and finishes well
Moderate/high fitting difficulty
Product details:
Prime European Oak available from £14.21 per metre
Also available in Prime American Ash and Unsorted Grade Softwood Pine
50mm Chatsworth mould
20mm thickness
120mm or 170mm high
Delivered in up to 3-metre lengths