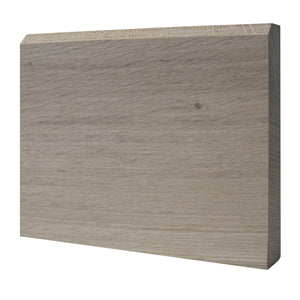 Priced by the metre from £14.21 ex VAT.
Delivered in 3-metre lengths where possible, some orders may receive lengths slightly shorter due to courier restrictions.
A modern skirting board design that allows the natural beauty of the wood to shine through. The 8mm Chamfer mould is crisp and clean. It finishes your room beautifully.
Shown here in 

Prime European Oak

A modern design to finish any room
Fashionable with the younger generation
A perfect choice to show off your chosen wood's natural beauty
Distinctive, attractive grains add character to your room
Glues, stains, and finishes well
Easy fitting
Product details:
Also available in Prime American Ash and Unsorted Grade Softwood Pine

Prime European Oak available from £14.21 per metre
8mm Chamfer mould
20mm thickness
120mm or 170mm profiles
Delivered in up to 3-metre lengths