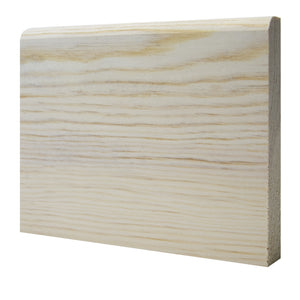 Priced by the metre from £4.55 ex VAT.
If you would like to order the long 4.2-metre lengths you must be inside our zone 1 delivery area. Here's the postcode list for zone 1. Alternatively, you can click and collect.
If you order 4.2-metre lengths for delivery but are outside our zone 1 delivery area your order will be shipped in smaller lengths from 1-metre to 3-metres.
Our Bullnosed skirting board is similar to our Pencil Round design but with a 9mm radius. This is currently one of the most popular moulds on the market. Simple, easy to fit and allows the natural beauty of the wood to shine through.
Bring your room to life with this very modern design
Also available in 

Prime European Oak and Prime American Ash

The perfect choice to show off your chosen wood's natural beauty
Distinctive, attractive grains adding character to your room
Fashionable with the younger generation
Glues, stains, and finishes well
Easy fitting
Product details:
Unsorted grade softwood pine available from £4.55 per metre
Bullnosed mould
20mm thickness
120mm (5 inches) or 170mm (7 inches) profiles
Up to 4.2-metre lengths