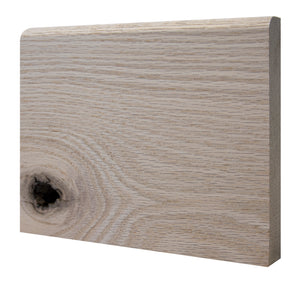 Priced by the metre at £12 ex VAT.
If you would like to order the long 4-metre lengths you must be inside our zone 1 delivery area. Here's the postcode list for zone 1. Alternatively, you can click and collect.
If you order 4-metre lengths for delivery but are outside our zone 1 delivery area your order will be shipped in smaller lengths from 1-metre to 3-metres.
Our attractive Character Oak skirting board is a superb choice for those who want the quality of oak at a fantastic price. Whilst being slightly lighter in colour than Prime European Oak it still has the look that sets oak apart from other timbers. If you're planning to darken your oak skirting board with a stain this timber could be a serious alternative to Prime European Oak. The extra character provided by the knots and cracks can finish homes looking for a more rustic feel, such as barn conversions or cottages, beautifully.
Features and Benefits:
For those who love character in their wood
Adds character to any room with distinctive knots and cracks
A sleek, modern design
Low maintenance and easy to clean
Exceptional value
Contact us if you would like this wood in a different mould
Product details:
£12 per metre
20mm thick
120mm width
4-metre lengths